Winter Bazaar      <———————–CLICK HERE
The HOPE Foundation is celebrating our 75th Anniversary of the Phillipsburg Community Building (1937-2012) during our Annual Telethon scheduled to be held on October 20th, 2012 at the Huck Boyd Center from 4 p.m. to 10 pm.
We are seeking talent to perform and volunteers to work as clerks, phone assistant, camera operators, and sound booth, etc. Please call the HOPE Foundation at 540-4100 or Tammy at 543-7279 to volunteer or schedule a time to showcase your talent. The telethon will be broadcast live on channel 414.
The theme this year is *Periods in History*. Although not mandatory, we are encouraging performers to represent a period in history through your attire and talent selection. Please let us know your period in history you will represent when you call to schedule.
We are also interested in your photos of the building you might have or memories from events you attended at the building throughout the years.
If you have something you*d like to share with us, please email Tammy @ angelbyfaith@hotmail.com or go to the HOPE Foundation website at www.pburghope.org and click on (submit a memory). Please read the following disclaimer before submitting any information.
Disclaimer:
Any and All submissions, materials, photos, and comments may be used at the sole discretion of the HOPE Foundation for use in our websites, newsletters, marketing materials, Facebook, social media, networking, all sales and promotions on behalf of our organization and our projects.
Any and all submissions, materials, photos, and comments may be used at the sole discretion of the HOPE Foundation for our websites, newsletters, marketing materials, facebook submissions, social media, networking, all sales and promotions on behalf of our organization and our projects.
Today we share an essay wrote by Doug Jernigan in October of 1990. 
The rest of the world can think Kansas is the pits if it wants.  I love this state and its people.  It's true that if you don't like Kansas weather; wait a few minutes and it'll change! Kansas' summer heat will make you forget the winter's cold.  Ka
nsas' winter cold will make you forget the summer's heat.  Kansas' fall is either leafy red and gold or rain gray.  Kansas' spring is either crocus through the snow or non-existent.  Yes, Kansas is many things and I want it for myself.
Kansas' joys are also it's pains.  In Kansas summers you look to the clouds for shade while you sweat. In winter, you dress in layers while looking to the sun for heat.  In spring, the flowers  and I look for rain in the black anger of the clouds.  In fall, I watch the changing beauty of the trees toward nakedness while hoping winter starts in February, not November.
Your senses will tell you that western Kansas is wheat field flat, clear sky blue, and grain bin windy.  Eastern Kansas is Flint Hills rolling, reservoir blue and farm pond brown.  Are there any contrast in Kansas?  You tell me.  Is there any different between an earthworm and an eagle?  A joy to a Kansan is watching a free falling hawk miss a rabbit in the rabbits game of not being a meal.  A pain to a Kansas is living in a city when you grew up on a farm.
Kansans themselves are sunburn brown, smile wrinkled and always laughing with somebody.  Kansans are plaid shirt, blue jeans, and boots.  Real Kansans are happy with who they are and they like their neighbors.  My Kansans are friendly if you smile, knowing that a dog wagging its tail probably won't bite.  But these same people may not be so open if you are frowning.  They know that a tornado can blow you away if you get too close.  Smile; you'll love Kansas and it's people. 
You can get rich in Kansas.  You can probably get rich quicker som
ewhere else.  However, I'll prosper and live better in Kansas than a rich man living anywhere else.  Let the rest of the world think that dying in Kansas is redundant.  Kansas is where I'm alive!
I may be "preaching to the choir" here.  With the Discover Phillips County initiative, we have been able to highlight the successful volunteer efforts in our rural communities. Our volunteers are the backbone for our thriving rural Kansas County.
 It is the norm to attend an event and see children to senior citizens "pull up their sleeves" and work together in order to  make the happening a success. Whether a county event, concessions at a local ball game or fundraiser for a community member in need, volunteers abound in Phillips County. 
 All across our county, there are community events which have been successful for years because of the "can-do" attitude of our residents.  Those include the twenty-fifth year of the Riverless Festival in Phillipsburg, the thirty-sixth year Arts and Craft
Fair in Logan or the Kansas Biggest Rodeo which is in its eighty-ninth year. These longstanding events show the time, money and support our residents, businesses and corporations are willing to give to protect and enhance our small town living.   
 In my own life, as well as witnessing it in others; relationships begin and flourish as we serve together for the betterment of our organization and/or community. Rolling up your sleeves and washing dishes, serving food, or tearing down stages can become a catalyst for getting to know someone in your community. 
 I will never forget a fundraiser held in our community a few years back.  A gentleman in his mid-forties was battling cancer.  The community rallied around him and his family, held a supper to raise funds to help with the cost of fighting this cancer.  The evening of this meal, our small town showed up!  With food, giving of time and talents as well as donations this man and his family witnessed the love of our rural Kansas. He was touched beyond words. So, was I! There were high school friends who traveled to show their love and support at this fundraising event. I visited with a couple who didn't even know this man and his family. They were traveling through and saw the flyer for this event at one of our local restaurants. Left the restaurant and came out to this fundraiser.  They too, were overwhelmed by the volunteers and community support shown. The success of this fundraiser was two-fold, 1) rural Kansans love people and 2) rural Kansans love to give of their time, talents and resources to help others. 
 So, what about you?  What are you doing to help your community succeed? 
 Taken from an article by Laura Krizov from the Michigan Main Street Center, she gives several reasons to volunteer in your community. 
 Reduces stress
Get to know the community
Have a skill that is needed
Satisfaction from accomplishment
Have an impact
Learn something new
Meet new people
Because you were asked
Have Fun!
 Here in Phillips County opportunitie
s
to volunteer abound. Look around you, check with others…step out and Volunteer to Help your Community Succeed!
It's morning in my small town, and the quiet covers us like a favorite blanket on a
cold winter night. There is the occasional sound of the nearby farmer starting his truck to go down to the local gas station for coffee or the birds awakening from their nights sleep, but that is all you hear. We are so lucky that the highway is far enough away that traffic does not interrupt the quiet.
Later on, around noon, the town will move to the next level of activity because the mail is delivered. People begin to congregate at the boxes and news is shared about neighbors and friends. Sometimes discussions about the economy ensue, but seldom are there disagreements that will break the quiet. We are lucky however, that most people walk to the mailbox, so that adds to the peaceful setting. There are only 6 children that live in our town, so there is the rare noise from them when they are out riding their bicycle, playing at the school playground, or sometimes come to my yard to swing or sled if the weather is right for it.
As the day progresses, the few business's are busier. It seems that everyone waits until late afternoon to come to get gas or share a beverage, before returning to their homes for supper. Around 4 p.m. there are more people than actually live here because the local farmers congregate at the gas station, as I said, to check in on the days' activities. The occasional loud tractor or racing engine are the only sounds that really break the silence.
As evening rolls around, everyone returns again to their homes to sit on the porch, sharing the news with their family and preparing for the rest they so greatly deserve. A few of the people take an evening walk, stopping to talk with folks as they go along. Of course, there are always the cars that go by and a honk is always greeted with a wave, even if you don't recognize who it is. This is the way it is every day, and may seem boring, but is loved by some of us.
Post reprinted with permission from Small Town Living At It's Best by Sandi Preuss.  http://smalltownimages.blogspot.com/  Sandi and her husband live in the community of Stuttgart in Phillips County, KS.  Sandi loves her small town and is "relentless for rural."
The beginning of this month, I had the opportunity to work on a project which once again renewed my hope in our rural Kansas community.  Through a partnership between Phillips County Economic Development, Discover Phillipsburg Main Street, the Morgan and Cole Foundations as well as the Majestic Community Theatre board a grant was submitted to the Kansas Department of Commerce, Rural Development Division for funding to help with façade renovations. 
 Phillipsburg, county seat for Phillips County, has been actively working toward renovating their downtown business district for a number of years.  In 2007, a Southside Revitalization Committee was formed and began to raise funds to purchase and raze dilapidated buildings on the south side of our downtown business district. Within a year the south side was cleaned and prepared for redevelopment.  The dream of improvement became a reality on November 23, 2009, when Wenzl Drug opened a newly construct store with ample parking on the south side of our square.
Within the last year, Phillipsburg downtown designated area has seen over one million dollars of building or renovations accomplished.  Also, there has been hundreds of volunteer hours donated totaling over $56,800.00.  What a wonderful example of the commitment and support our residents have shown for our downtown buildings and businesses.
 With the designation of Phillipsburg as a Main Street community, historic preservation is at the forefront of people's minds.  The Majestic Community Theatre restoration project is one which can benefit all ages within our county.  From preschool age to retiree's, the doors of this theatre has welcomed generations of residents.  It has played the role of entertainer, baby-sitter, first date attraction, and educator to the many who stepped into this magical world.
 While the community realizes this building will never go back to the original opera
house, there is a desire to see the restoration and renovation complete. Many, if not all our residents, have delightful memories from this building.  It always has been and continues to be an integral part of our small town and rural county.  Not only is it a movie theatre, but perhaps more importantly, a social gathering place.  One patron new to the Phillipsburg community commented on how "neat it is to not only attend the movie, but to visit with friends and neighbors prior to the movie starting."
 In 2002, when the previous owners of the Majestic Theater talked about closing, the folks rallied together to save this community icon.  For over seven years, the theatre board and county wide volunteers have kept the building open and maintained.  Yet, funds have not been enough to address the rapid decay of this once magnificent building. Today one would never guess what an integral part this building has played in our resident's lives.  The evidence of such is found in the many support letters we included in the grant application.  The backing and interest for this project is incredible and seems to have sparked a renewed sense of hope in the lives of our people.
 Overwhelmingly, Phillips County  has banded together.  With 280 volunteers, monetary donations and pledges totally $94,000.00 and $5,000.00 in donated equipment our county is ready to see this project through to the end. To complete the necessary funding, the board submitted the grant request.  There is an air of excitement amongst our populace.  With the sentiments so many have for our theatre, Phillips County once again has shown its "can-do" attitude. 
 The Majestic Community Theatre Renovation project exemplifies what Phillips County is all about….Safe~Prosperous~Friendly~United!  Welcome Home!
All across America, citizens practice the art of giving. In the Discover Phillips County initiative this is not only practiced, but simply a way of life.  You see, being generous
for rural inhabitants isn't just about financial giving, volunteering of time or using God given talents.  It is a conglomeration of all.
 For the most part, individuals in rural America still have a neighborly spirit.  Everyone pulls up their sleeves and does whatever is needed; whether it is serving on a committee to help with an event, giving a financial donation, or using talents to draw people to Phillips County.  The heart of giving is alive and well here.
With the population decline we have seen in the last twenty years; those who have chosen to remain in rural America understand the philanthropic spirit.  We donate time, talent and money to help our small communities and county not only survive, but also thrive.  Individuals know that they just can't give money or time; but sometimes give of their resources and time both in order to help the project, event or even another individual succeed. 
This past weekend all across Phillips County, the spirit of giving was apparent.  The 30th Annual Arts and Crafts Fair in Logan, as well as the 4th Annual US Hwy 36 Treasure Hunt took place.  Neither of these events could have happened without the heart we so often see in our Kansas County.  From working information booths, to serving pancakes to benefit a local project, to the clean-up that comes after everyone goes home; our residents once again gave of themselves. Offering their time, talent and financial resources so others could Discover Phillips County.
 Reports are in from both events and it is apparent that once again, people not only traveled to our rural Kansas events; but enjoyed them as well.  The people coming and going read the blue signs greeting them as traveled into our county.  And because our people have such a giving heart, our guests agreed that Discover Phillips County is Prosperous~Safe~Friendly~United!  Welcome Home~
The 3/50 project…………
Hey Discover Phillips County, for this week my intentions were to blog on the Kansas Biggest Rodeo, then I received a newsletter from another Main Street community.  Included in it was a concept that immediately excited me!  It is called the 3/50 project…saving the brick and mortars our Nation was built on.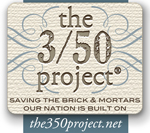 You see having a heart for brick and mortar small businesses are not only a part of the legacy left to me by my father (who was employed by and then owned a small family owned furniture store), but are currently close to my heart as I work in community and economic development for our small rural Kansas County.
Between one of our communities losing 180 jobs and the state of the nation's economy, days can seem pretty gloomy around here.  Local coffee shop talk can focus on the next casualty to our business community.  So, the 3/50 concept seems to me as a small positive step in the right direction.
I immediately went to the 3/50 website and then on over to the Always Upward blog,  my intentions were to find out all I could to promote this concept in Phillips County.
Here is an excerpt from the Always Upward blog,
written by Cinda Baxter, founder of the 3/50 Project.
~~
A friend turned me onto a great piece about strengthening the local economy by patronizing local brick and mortars. Written by Rieva Lesonsky (Consulting Editor at BizWomen.com), the post "Support your small local businesses" –  touched my retail-lovin' heart in a big way.
(Her article sprang from a customer service-related experiment last summer. In that case, a guy decided to purchase goods and services only from businesses whose owners he'd met. Before long, he was frequenting the same three restaurants repeatedly, which inspired Lesonsky to twist the concept slightly, then consider the implications of her own shopping habits)
With more and more small businesses on the edge of survival, I've been thinking about which three stores I would most hate to see go out of business, and how
I can support them with my dollars.
Puts things in pretty clear terms, pretty quickly.
And this got my wheels spinning.
"Why not build a campaign tying this three door concept to the $50 challenge?
Call it the 3/50 concept
 supporting local business in small, easily consumable bites.
The goal is simple: Ask consumers to frequent three local brick and mortar businesses they don't want to see disappear, and to spend a very affordable $50 per month doing it.
Could be those three. Another three. Doesn't matter. It's about funneling revenue back into local business. You know-—the folks that pour money back into the community via commercial property taxes, payroll taxes, sales tax, and salaries (not to mention all that good will by way of volunteer time, silent auctions, sponsored softball teams, workshops, book signings, etc. )
~~
Here is the link to the 3/50 website. 
I encourage you to check this out, then
Come Discover Phillips County and begin to embrace this initiative.  Not only to help revitalize our local economy but to encourage our local business owners as well.  Help spread this word,  go support our local Phillips County businesses, and the individuals who have dedicated their lives and careers to the brick and mortars that Phillips County was built on!
      For 2009, National Trust for Historic Preservation is taking "This Place Matters!"  to a whole new level to start a national conversation about places that matter all across the country.  This grassroots campaign is to help people protect, enhance and enjoy the places that matter to them. This campaign provides residents of Phillips County an opportunity to celebrate the diverse and unique heritage of our county and towns, and enables all of us to become involved in the growing preservation movement.
I venture to say that most of us living here would coin the saying, "This Place Matters" in talking about our small rural community and county.  Let's take it one step farther and think about individual sites, buildings, structures and homes, then ask yourself, "Does this Place Matter?"
As work is being done on the list of historic sites in Phillips County for this website, I am learning about places in our county that matter!
Take for instance the Battle of Prairie Dog Creek! Although the physical remnants of this battle have long been removed, the piece of land it took place on still remains.  This area is located in the northwest corner of Phillips County, near the town of Long Island.  The battle took place in 1867, between the 18th Kansas Cavalry and hundreds of Cheyenne, Kiowa and Sioux Indians.  "This Place Matters," it is a piece of Phillips County, Kansas and Kansas Calvary history. 
On the opposite side of our county another unique piece of history is located by Kirwin, near the junction of Deer creek and the Solomon.    The Stage Coach Station number 13 was one of 27 Stations on the route for the Leavenworth and Pike Peak's Express.  This route was established in 1859 and operated between Fort Leavenworth and Denver to serve the newly discovered gold fields around Denver.  Although there is no building remaining, there is a dugout believed to be where this station was located.  This is another example of Phillips County history that matters!
A quick glance at the Historic Resources Inventory list for Phillips County shows eleven bridges in our county as historic structures.  This list includes both old truss bridges as well as limestone bridges built by the Work Projects Administration (WPA) in 1937. These bridges have provided crossing for those traveling in our county for years.  The bridges are a part of structures in our county that matter.
A variety of buildings within our county fall under the guidelines for having historic value.  These range from schools, churches, gas stations, and commercial buildings to the Phillips County courthouse, Phillipsburg's community owned Majestic Theatre, the Masonic building, and private homes.  Churches include The Church of the Transfiguration and Asbury Methodist in Logan, as well as the United Presbyterian and Methodist Church in Phillipsburg.  A quick Google searched revealed the Phillips County Courthouse is considered one of the Historic Courthouses in the state of Kansas.  The narrative form this site describes Phillips County Courthouse in these terms, "Tons of marble are obvious in this construction both inside and out. There is a generous use of slab marble in the wall panels, stair wells, and stair steps. Stair well railings are made of rod iron and walnut. A stained glass sky light is centered between two large brass chandeliers on the second floor ceiling.  Each of the four working clocks that architecturally face in each direction atop the building sides is operated by the 1921 Seth Thomas pendulum mechanics which can be viewed behind glass on the first floor entrance"  How fortunate are we to have this historic building as well as the many other buildings in Phillips County. Buildings in which we can say – "This Place Matters."
To help raise awareness in Phillips County about the power of historic preservation, I encourage you to take a drive or walk by the historic sites, buildings, structures and homes and celebrate the unique heritage of our Kansas county.  David C. McCullough stated that "History is a guide to navigate in perilous times.  History is who we are and why we are the way we are."  So, take the opportunity to stop, reflect and realize that in our county there are buildings, sites and structures in which – "This Place Matters."  Those buildings, sites and structures which have help make Phillips County  Prosperous~Safe~Friendly~United!  Welcome Home!
To learn more about the National Trust for Historic Preservation, as well as their "This Place Matters" campaign visit the website at:
http://www.preservationnation.org/take-action/this-place-matters/
Article from The Madisonian newspaper, Virginia City, Montana,  January 11, 1879.  Reprinted as it appeared in the Madisonian.
 
Spend Your Money at Home
     The following is given by an exchange as among the most forcible reasons why you should spend your money at home, and we commend them to our readers as good ones:
     It is your home; you cannot improve it much by taking away your money to spend or invest.   There is no way of improving a place so much as by encouraging good merchants, good schools, and good people to settle among you, and this cannot be done unless you spend your money at home.  Spend your money at home, for there is the place where you get it.  It is your duty.
     Spend your money at home, because when it is necessary for you to get credit, it is of your own town merchants you have to get it, and they must wait for the money.  Therefore, when you have the money, spend it at home.
     Spend your money at home.  It will make better business for our merchants; they can and will keep better assortments and sell at lower rates than if the only business they can do is to be charged on the books, while the money goes other places.
     Spend your money at home.  Set the example now.  Buy your dry-goods, groceries, meats, and everything at home, and you will see a wonderful change in a short time in the business outlook of the places; therefore, deal with your merchants at home.
     And, not least, take your home paper, and pay for it.
 
     I was reading the newspaper on microfilm to acquaint myself with the town in that time period as I'm working on a book set in that locale and was astonished to find the above article.  In those days, one traveled by horse, buggy, stage… Well you know that as well as I do.  So I'm wondering if the mail order catalogs had come into being.  A search of good old Google and I learn that Sears and Roebuck wasn't in business until around 1893, but Montgomery Ward published their first catalog in August of 1872.  This catalog consisted of a single sheet with 163 articles for sale and ordering instructions.  In 1883, the catalog, popularly known as The Wish Book, had grown to 240 pages and 10,000 items, satisfaction guaranteed.  So maybe that's where folks were spending their money.
     Anyone have any other ideas?     Eunice Boeve
This week's blog is submitted and wrote by Eunice Boeve.  While  a guest writer for this blog, she certainly isn't a guest at writing.  Eunice is actually an accomplished published author.  Her books include

Maggie Rose and Sass; A Window to the World; The Summer of the Crow; Trapped and Ride a Shadowed Trail.  Be sure and check out Eunie's website and published books at 
www.euniceboeve.net
.